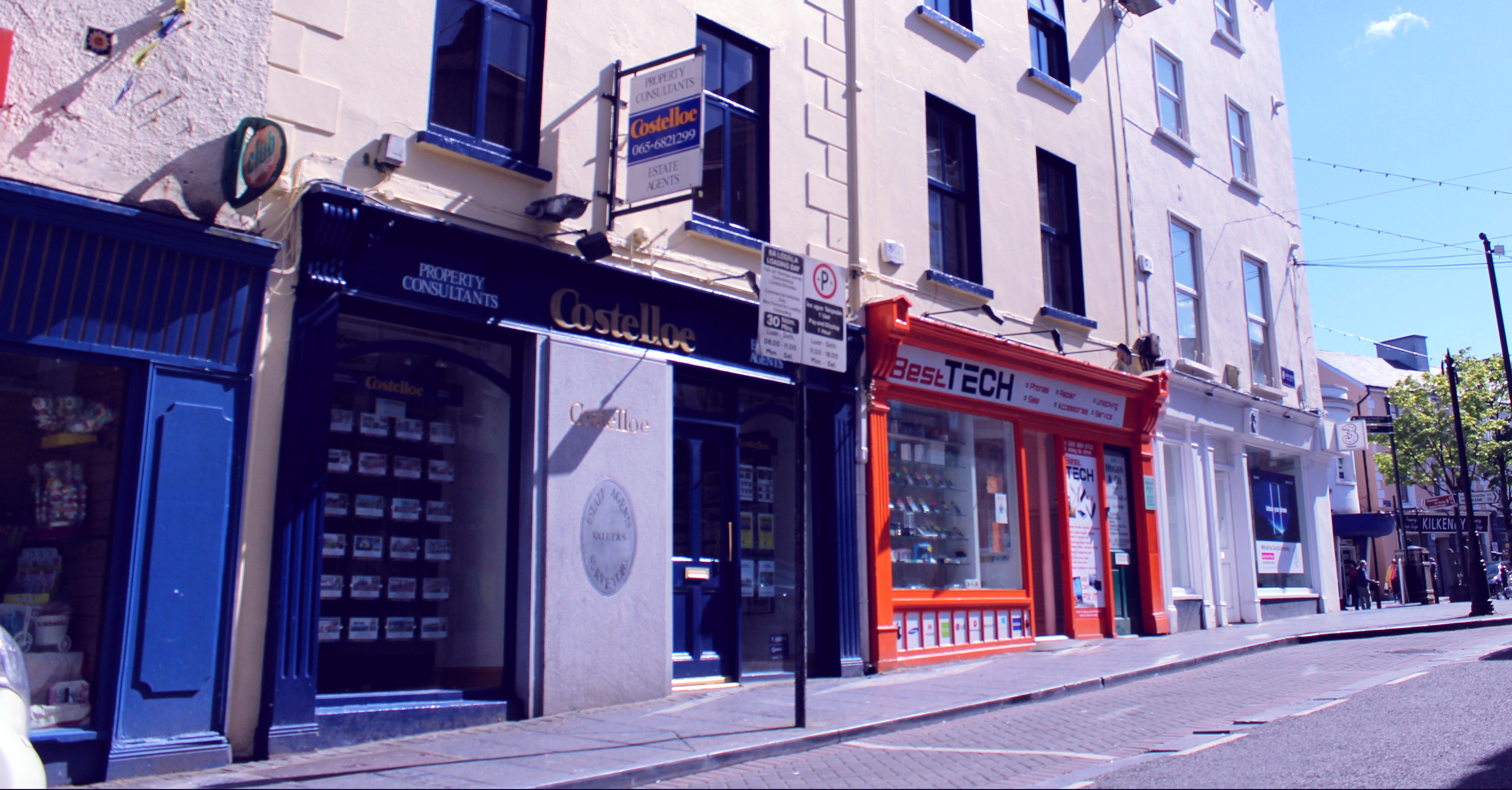 COSTELLOE ESTATE AGENTS
The leading firm of property advisors based in Ennis, and covering the mid-west region of Ireland. It has traded as a firm of Auctioneers, Valuers, Estate Agents and property consultants since 1954.
Located on Abbey Street, just off O'Connell Square in the centre of Ennis, Co. Clare.
Each member of our property team are members of both The Society of Chartered Surveyors Ireland, SCSI, and The Royal Institute of Chartered Surveyors, RICS, London. The firm also holds a Property Service Regulatory Licence as per current regulations. Affiliation with these bodies exemplifies to all that Costelloe Estate Agents are a firm committed to providing the highest level of professional standards for our clients.
We have used our collective knowledge and experience gained through our business and our Continued Professional Development, CPD learning to develop the firm.
Over the past 60 plus years Costelloe Estate Agents have evolved with the market and continue to set new standards of service and results.
DAVID COSTELLOE
MD, B. Sc. Surveying, Trinity College / Bolton Street
MRICS, MSCSI, RICS, Valuer
PRSA Licence 002313-0013183 A.B.C.D Licence Holder
Key Skills
Chartered Valuation Surveyor
Over 25 years of experience in Residential & Commercial Agents
Strong Negotiation Skills
Lead Valuer, Investment, Retail, Industrial, Office, Residential, Development Appraisal Hotel, Licensed Premises, Agricultural, Forestry, Shopping Centre, Medical, Filling Station
Compulsory Purchase Orders
Landlord & Tenant
Rent Review
Arbitration
Auction
SIOBHAN COSTELLOE
Auctioneering, DIT Bolton Street
MRICS, MSCSI, RICS Valuer
PRSA Licence 002313-0013 A.B. Licence Holder
siobhan.costelloe@cotelloe.com
Key Skills
Chartered Surveyor
Over 35 years of market experience
Skilled sales and lettings agent
Strong Negotiation Skills
Coastal property specialist
Senior Valuer- Residential, Office, Retail, Secured Lending, Probate, Agricultural, Forestry
Financial manager
Health & Safety Officers
Complaints Officer
NOEL MOORE
B. Sc. Property Valuation & Management Herriot Watt University
LIT MRICS, MSCSI, RICS Valuer
PRSA Licence 002313-0013189 A.B.C.D Licence Holder
Key Skills
Chartered Valuation Surveyor
Over 15 years of experience in Residential & Commercial Agency
Strong Negotiation Skills
Senior Valuer, Investment, Retail, Industrial, Office, Residential, Development Appraisal Licensed Premises, Agricultural, Forestry, Probate, Secured Lending
Compulsory Purchase Orders
Landlord & Tenant
Rent Review
Property Management, Block, Portfolio and Individual
Strong IT Skills
Marketing Coordinator/Brand Management